Prescription glasses with original Ray-Ban lenses
Table of contents 
1. Original Ray-Ban® prescription glasses 
2. Ray-Ban® DST technologies
3. Clear prescription glasses 
4. Sunglasses with prescription lenses
5. Photochromic lenses (Transitions Signature VII) 
6. Ray-Ban® progressive lenses
7. Ray-Ban® tinted lens range - check out the available colours
8. Ray-Ban® polarized lenses
9. Ray-Ban® chromance lenses
10. Ray-Ban® range of children's lenses
11. How to order prescription glasses over the internet?
12. Frequently asked questions FAQ

Unique product, which will allow you to fully discover Ray-Ban brand 
80 years of experience in manufacturing the highest quality sunglasses and prescription glasses from start to finish. From the cult Ray-Ban® frames to high-tech prescription lenses, it ensures that each pair is individually prepared and finished with the Ray-Ban® logo, an authentic mark of the highest quality. Why should you consider buying a frame and lenses, i. e. a complete Ray-Ban prescription job? The prescription glasses are made in a factory in Italy and undergo quality control at every stage of production. This is confirmed by the authenticity and quality certificate attached to the glasses. Prescription glasses are covered by a 2-year warranty on all factory defects.

 

 

 

By controlling quality and the entire production process, Ray-Ban® can fully meet the visual needs of even the most demanding eyewear users.

From the manufacture of custom lenses, through to installation in brand new frames, to sending you a unique and exclusive fully signed pair of Ray-Ban® prescription glasses.

A product that users can enjoy from 2017 onwards, faithful to the ideals of Ray-Ban®. The uncompromising combination of your favourite frames with prescription lenses.


 
Notice every detail – DST technology guarantees the highest quality of image  
If you are a visually demanding person, choose innovative DST lens technology - Digital Surfing Technology. Ray-Ban® DST lenses are digitally optimized during production, point by point on the inner lens surface. The technology makes the image much clearer and more transparent, the correction powers are distributed over the widest possible field of view of the lens. It is an innovative method of lens production, going beyond standard optical technologies.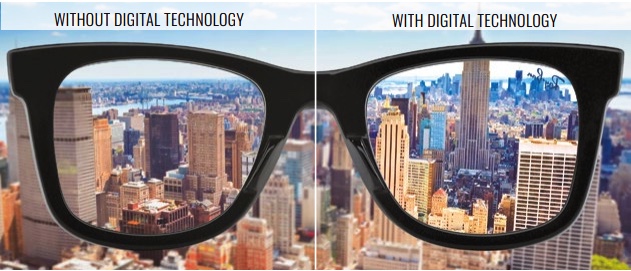 Each pair is unique, created with individual frame parameters and user correction values. The range of lenses is available in both sunglasses and clear versions. Thanks to the technology used, a wider range of correction powers and a wider choice of prescription frames are available. Taking into account measurements such as vertex, pantoscope angle and frame curvature angle allows the lens to fit perfectly, while maintaining the original frame pattern.
 

Original lenses for prescription glasses, see Ray-Ban

®

quality confirmed by logo 
The brand provides the possibility of assembling the prescription lenses to most of the frames. Depending on the correction values, we will help you choose the best option for you. Lenses on standard index 1.5 are available. For higher correction values, we recommend the choice of a thiner lens with a higher index factor: 1.6, 1.67 or 1.74. 
By applying multiple layers of anti-reflex on both sides of the lens, we can enjoy a clear image in all conditions. The anti-reflective coating has: UV protection, internal glare reduction, hydrophobic and anti-static properties, resistant to grease. Thanks to the Premium anti-reflection coating, from now on everything will be in your sight! The prescription lenses are easy to clean, evaporate faster and have harden coatings.
 

Harmful blue-violet radiation will no longer be a threat to your eyesight! Take care of your eyes with the Blue-Light anti-reflection coating. If you're looking for prescription glasses for your computer, choose a coating that reduces eye fatigue and additionally protects your eyes from the radiation emitted by the screens. Thanks to a slight contrast in yellow, the Blue-Light anti-reflection coating reduces eye fatigue even during long hours spent at the computer.

Prescription glasses for computer work are not only available for people with vision correction. If your eyes are tired, working an average of 6 hours at the computer - consider buying trendy Ray-Ban frames with lenses that will improve your working comfort. 

 
| | |
| --- | --- |
|   | Enjoy the cult style of sunglasses with clear Ray-Ban lenses. This offer is available with a DST prescription lenses and covers the entire range of Ray-Ban sun frames. |

Prescription glasses with a photochromic lenses, vision comfort in any place  
If you're looking for prescription glasses that will work in all conditions and give you clear vision - choose the Transitions Signature VII lens! The lens's available tint is a cult grey-green G15 tint, which further enhances contrast. Perfectly transparent prescription lenses indoors and outdoors that adjust their shading to the amount of light. They block 100% UV and smoothly change lens tint from 0% to 85% depending on the prevailing outdoor conditions. You can order them in both prescription and sun frames.  

Progressive glasses provide uncompromising, sharp vision at all distances
If you're familiar with the term presbyopia and you find it difficult to read, read about the solutions Ray-Ban can offer you. Progressive glasses are an extremely convenient choice for people over 40 years of age who need support to get closer. Thanks to the progressive lens design, it doesn't have to change glasses depending on the activity - driving, working at a computer or reading your favourite book in one pair of glasses. Clear vision of distance, intermediate distances and close-ups is one of the advantages of using progressive glasses. To adjust the lens design accordingly - send us your prescription and describe your lifestyle. We will advise the best version for you. 

Original Ray-Ban tints – choose your favourite colour 
The Ray-Ban brand has been an undeniable leader among manufacturers of sunglasses for years. Classic lens shapes and colors are now available with correction powers. All prescription sunglasses are made of polycarbonate (material with an index of 1.59), which is characterized by high scratch resistance. DST technology provides a clear image in the widest possible lens field. Available colour variants are: uniform, gradal, mirror, with polarisation technology or chromance.  



Reliable glare reduction - the most common driver choice  
All sun lenses provide 100% protection against UVA and UVB radiation. However, those with an additional polarization filter deserve attention, especially those who are looking for car or glasses for water. Thanks to the use of polarization, dazzling reflections from the roadway, water and other flat surfaces are eliminated. The picture is clearer and more readable to our eye, it guarantees maximum focus on the road and faster reaction time. Above the water, however, polarization reveals a whole new dimension of the image! Dazzling particles of light reflecting from the water surface are no longer visible, but you can often see what is under the water surface. If you like to relax underwater - take care of your comfort and rest your eyes too.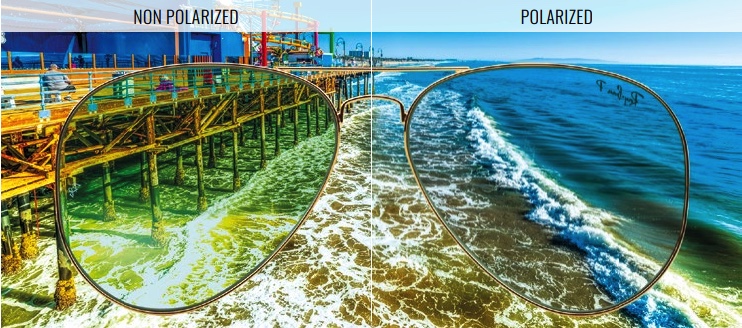 Glare reduction and saturated colors, see the world in HD quality
The latest technology in lens production, which combines polarization and enhances the contrast between colours. Created for people who appreciate the highest quality of image and like to spend a lot of time outside. Thanks to a specially selected pigmentation, the lenses emphasize color intensity, ensuring better color perception than before. Chromance lens tinting prevents colour distortion and therefore colour perception is brighter and clearer. The lenses are only available in selected models.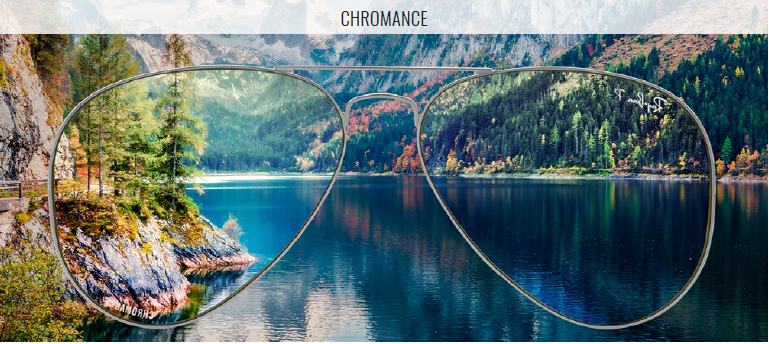 You're never too young to enjoy the Ray-Ban® style 
The unique Kids collection of children's prescription frames and original prescription lenses will be a great support for the development of vision for the youngest users. It is an ideal solution for a young and active child. The range of clear prescription lenses includes all technologies: Premium Anti-reflection, Blue-Light Anti-reflection and Personalised DST design. 

Tinted lenses with vision correction – an ideal solution on sunny days for you child!  
A child's eyes are more sensitive and less protected than those of adults. Specialists emphasize the need to protect the child's eyes during all outdoor activities, especially in conditions of strong exposure to sunlight. Choose your favourite frame and match the colour of the lens - available with or without polarisation.

How to order prescription glasses over the Internet?

Contact with us using e-mail info@optique.pl or use the form below - and we will get back to you!

Sending us a message, write: 

which prescription or sun frame are you interested in

attach a photo or a scan of the current prescription for the glasses

tell us where and under what circumstances you most often wear prescription glasses
How to order prescription glasses over the Internet? 
Contact with us using e-mail info@optique.pl or use the form below - and we will get back to you!  
Sending us a message, write: 
which prescription or sun frame are you interested in

 

attach a photo or a scan of the current prescription for the glasses

 

tell us where and under what circumstances you most often wear prescription glasses

 
Frequently asked questions 
How long will I wait for my order to be processed?  
The glasses are made in the manufacturer's laboratory. The lead time depends on the availability of the chosen frame and lens type, so the approximate lead time is between 7 and 14 days.   
Can I order prescription lenses for frames that I already have? 
The manufacturer provides the possibility of grinding and assembling to Ray-Ban prescription or sun frames. Send us your frame- it will then be sent through us directly to a laboratory in Italy to insert the prescription lenses. It is important that the frame is in good technical condition for the installation of new lenses. The execution time is extended between 14 and 21 days. 
Can I return my prescription glasses bought online?  
Prescription glasses are a  medical product, not prefabricated, made to individual order and therefore it is not possible to return this product. However, if you are not satisfied with the quality of vision in glasses - check the point below. 
What does the 30-day vision guarantee cover? 
 For the sake of your eyesight and satisfaction with the chosen product - we provide the possibility of replacement with another type of lens or other correction values. We are aware that the new prescription glasses require an adaptation period. It's time for you and your eyes to get used to your new glasses - you don't have to nervously speed up this process, which usually takes about two weeks. Report the lack of adaptation no later than 30 days from the date of receiving the shipment with glasses.
I don't see clearly in progressive glasses, what's next? 
In the unlikely event that the patient cannot get used to wearing the new Luxottica progressive lens glasses, the non-adaptive glasses will be replaced by single focal length (far distance) glasses.