Oakley corrective glasses - OAP Oakley® Authentic Prescription
The Oakley® brand is known for exceeding the limits of precision, passion and creativity. Everything for every user - both world-famous athletes and all active consumers. Explore the world of the Oakley brand by completing your favorite Oakley frames, sunglasses or sports glasses. No matter what you like to do, the Oakley brand gives you the opportunity to enjoy a clear picture anytime, anywhere. All this to get even better results.

Table of contents

Oakley - uncompromising vision quality and wearing comfort

A key benefit for optics professionals and patients is that when they order glasses through the Oakley® laboratory, they retain their integrity and warranty on both lenses and frames. Only Oakley® Authentic Prescription lenses have the ellipse logo; an uncompromising quality icon and proof of Oakley® authenticity.
 
Oakley prescription glasses with your vision correction
Oakley's collection of prescription frames is a showcase for the brand, which reminds us of its most important values. The materials used in the production of frames are of undeniable quality, we can find here, among others Lightweight and highly resistant material o-Matter, five-metal alloy C-5, titanium or carbon fibre, which provide strength. You will find full frames, more sporty style or almost invisible type of patent. Original Oakley correction lenses are available on different lens indexes. This means that regardless of your prescription for glasses, we will match the lenses to the chosen frame. Anti-reflex technologies and lens design are responsible for high image quality. The lenses can be thiner, lighter or with an index of 1. 59 made of polycarbonate with high resistance. Oakley® Stealth is an anti-reflective coating on the inner and outer surface of the lens that helps: reduce glare while eliminating streaks, repel grease from sebum, water and dirt to help lenses stay clean longer.
If you are looking for glasses for computer work, please let us know before you buy! A special Blue coating is available to filter out harmful blue-violet radiation. This coating makes the white colors warmer and makes your eyes feel comfortable despite long exposure to artificial screen light.


TrueBright Technology - is Oakley's prescription frames technology, which ensures that the bridge width can be adjusted. All this is to make sure that the frames fit your face as well as possible.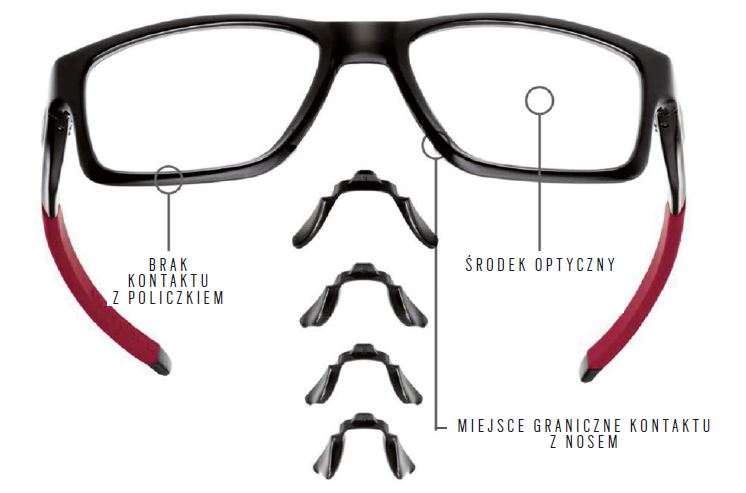 Oakley sunglasses with vision correction
Comfortable vision on sunny days - no matter what activity you prefer. Maybe you're just moving around town, taking part in sports competitions or planning to relax by the water? Oakley tinted lenses with your correction will accompany you on sunny days. Check out the technologies you can choose to uncompromisingly enjoy clear images during the sunset season.

Revolutionary PRIZM technology for eyeglass lenses that provides deeper color perception and increased contrast. From now on, you won't miss a detail. Select this option if :



you expect better visual acuity than with standard lenses. The clear image allows for a faster response



perceiving more saturated colors is important to you



You want to optimize your ability to see and track moving objects in sight




You want to feel safe and comfortable
Oakley® offers the best polarized glasses. Why choose Oakley® HDPolarized® sun protection lenses?
 
The key difference from other companies available on the market is the production stage.

Oakley's highly secret and patented polarized lens production cycle rejects old-fashioned and less expensive production methods - layered lens bonding and polarized mesh. The innovative method consists of combining and melting on a molecular level the lens material and the polarizing filter. Other manufacturers use cheaper methods of merging individual layers, which can cause optical interference and image fogging.

The best technology available on the market, for people who :


value product innovation


count on maximum clarity, without glare


looking for perfect sunglasses for driving a car, cycling, often spending time by the water


want to enjoy 100% UVA, UVB and UVC protection and excellent vision on sunny days, without optical interference


their eyesight is highly sensitive to light, they want to feel comfortable and reduce visual fatigue
 
Remember, the sun is with us all year round. Also in winter, UVA and UVB rays reach the Earth. Don't be surprised by the weather and choose a photochromatic lenses that will adapt to the outside and stay clear in the room. Comfort of seeing whether you're at work or just riding a bike.
Transitions lenses are the perfect solution for people who:
 

wear corrective glasses (far distance values or progressive glasses)


 



looking for 100% protection against UV radiation


value the comfort of a quick lens response to the amount of UV radiation. The darkening of the lens will never be too big if the sun is hiding behind the clouds for a while, nor too small if it shines again in full glare
 
Sports glasses with vision correction - Oakley True Digital
Oakley® products and technologies not only provide unparalleled functionality and quality, but have also completely redefined the sports glasses category. Oakley® we create glasses for the brave - for those who reject conventions and transform the way they think about reality and their own abilities. The authenticity of our products comes from world-famous athletes who rely on our products in every situation because they do not want to compromise.
 
Oakley® True Digital™ lenses provide: 

Wide range of correction powers (for selected models)
 
Choice of technologies: Prizm, Polarized or Transitions for dual lens models such as Flask 2. 0 XL


Integrity of correction lenses with frames with high base curvature while maintaining their application



the possibility to order only prescription lenses for Oakley glasses that you own

By digitally matching the Freeform vision correction to the chosen Oakley frame, lateral image distortion is avoided. You can focus on the whole space, be present here and now - no obstacle will stand in your way of success.

Whatever your hobby, Oakley has a solution that will improve your satisfaction and enjoyment of the sport. See our prescription frames proposal, then prepare your prescription for corrective glasses and contact us.

How do I order Oakley glasses with original corrective lenses?
 

Check out Oakley's current range of prescription frames and sunglasses. Write us, which model you are interested in.



Prepare your current prescription (photo/scan) or sign up for a comprehensive eye examination in one of our Warsaw stores at:+48 8888-00000


Tell us which glasses are you interested in? If you need advice - let me know what kind of lifestyle you have and we will suggest the best solution.


If you have a PD on your prescription, include this information. See how to take a self-measurement of pupil distance : download a file with instructions and a ruler.


You can also complete a simple contact form. We will prepare an individual offer and will get back to you within 24 hours!

If you have any questions, please contact our specialist at +48 888-800-000